Rufford Abbey monastic scourge identified by archaeologists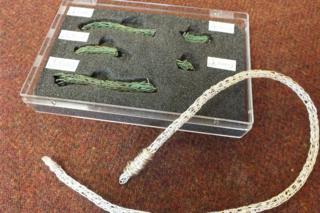 An ancient whip uncovered at a medieval monastery is believed to be one of only four metal scourges in the country.
Archaeologists uncovered the copper artefact at Rufford Abbey, Nottinghamshire, and believe it to have been used by monks to whip themselves.
It is thought it dates from the second half of the 14th Century.
The practice of self-flagellation is a Christian act of penance and may have been used by monks to ward off the Black Death.
Archaeologists found a green colouring in the soil while carrying out an excavation in a meadow at the former Cistercian monastery Rufford Abbey.
Updates on this story and more from Nottinghamshire
The discovery was made in 2014 but only now have archaeologists realised its significance.
Dr Glyn Coppack, an expert in the archaeology of monasteries, said: "There must be a number of unidentified scourges from monastic excavations, but apart from the one from La Grava, in Bedfordshire, I have not seen any others myself.
"I suspect they are very rare indeed, and this is an exceptional find."
The find is thought to date to shortly after the Black Death in 1348-50 when the practice of using scourges grew in popularity in an attempt to ward off the plague.
A similar metal scourge is on display at Rievaulx Abbey in Yorkshire while others have been found at Grovebury Priory, or La Grava, in Bedfordshire and Roche Abbey in South Yorkshire.
The Black Death, which killed between 30% and 45% of the population, is seen as the root of the decline of Rufford Abbey which lost much of its income from the wool industry.