World War Two crash crews memorial plan in Bleasby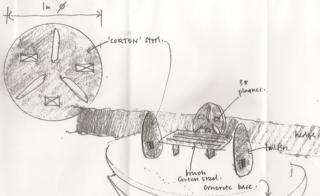 A memorial to three World War Two crews who died in crashes close to a Nottinghamshire village is planned.
About £8,000 is needed for the tribute, which would incorporate the tail fin of a Lancaster Bomber and be placed on the main road in Bleasby.
Four Polish airmen died shortly after taking off from RAF Syerston, in 1941, and 15 other men died when two Lancasters collided in mid-air in 1943.
Campaigner Ken Ogilvie said he hoped the memorial could be in place by 2018.
He said: "My father, who was wounded in the war, always told me that I'd be lucky if I didn't have to fight in a war and I haven't had to do that.
"I regard the sacrifice made by these men has given me the peace in my life time and that's what we need to remember."
Mr Ogilvie has some of the parts recovered by a farmer of the crashed Wellington R1014, which the Polish crew were flying, including a bulb holder and a Morse code taper.
The aircraft came down shortly after take-off during a training flight, on fields close to the village school, killing all the crew, on 6 February 1941.
On 1 September 1943, Lancaster JB132 collided in mid-air with Lancaster R5698 over High Cross in Bleasby.
JB132 was returning from a bombing raid in Berlin and was close to landing at RAF Syerston.
All 19 men who died in the crashes are buried at Newark Cemetery.
---
Wellington R1014 crew:
Sgt Stanislaw Tofin, 35, pilot
Sgt Jozef Jonczyk, 24, pilot
Sgt Jan Adam Cymborski, 35, gunner
Sgt Wojciech Lichota, 31, radio operator
Avro Lancaster Bomber R5698 crew:
Flying officer Joseph Murphy MacDonald, 30, pilot
Sgt George Robert Joyce, 19, flight navigator
Flying officer Walter Stephen Jobling, 34, navigator
Sgt Edward Neiland Jones, 20, air bomber
Sgt George Herbert Tough, 23, wireless operator and air gunner
Sgt John Henry Hutchinson, 38, mid-upper gunner
Sgt Robert William Rashbrook, 20, rear gunner
Avro Lancaster Bomber JB132 crew:
Squadron leader Dennis Crosby Wellburn, 27, pilot
Flying officer Roy Leslie Clarke, 26
Sgt John Reid Forrest, 31, navigator
Flt Lt Richard Edward Davies, 31, air bomber
Sgt Jack Blackett, 20, wireless operator and air gunner
Flying officer Trevor Francis Joyce, 25, air gunner
Sgt Alan Paterson, 25, air gunner
Sgt John Knox Watson, 20
---