Facebook faker 'pretended to be dead grandmother'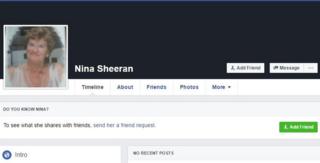 A grieving woman has been targeted by a "cruel" Facebook hoaxer who pretended to be her dead grandmother.
Vlogger Becky Sheeran believes the profile could have been set up in a bid to extort money.
The 28-year-old, from Nottinghamshire, has been targeted by trolls before, following the death of her father.
Facebook said it was investigating and had closed a fake profile that had been used to contact her.
Ms Sheeran - a YouTube vlogger whose TalkBeckyTalk channel has more than 150,000 subscribers - said she received a friend request from an account pretending to be her grandmother, Nina Sheeran, on Sunday.
The profile also added her sister, a number of other relatives and friends of her grandmother, who died in January.
Before her death, the pensioner used Facebook frequently.
A Facebook spokesman said a fake profile that had been contacting Ms Sheeran had been removed.
"It brings all these emotions up of somebody that's not here any more," Ms Sheeran said.
"You always wish you could see that person again and to suddenly see their name again... it's really distressing."
She said she reported the account to Facebook and wanted the person behind it to be "brought to justice".
She added: "It's good to suspend an account but it's not teaching someone a lesson - no-one has been held accountable."
Nottinghamshire Police said the case was a matter for Facebook.
---
How to report a fake Facebook account
---