Nottingham curry house boss hid £100K of VAT cash at home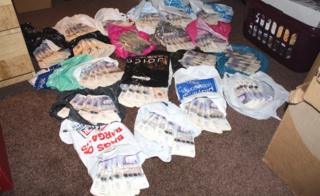 A restaurant owner who admitted hiding almost £100,000 of cash at his home has been sentenced for tax evasion.
Mohammed Ibrahim did not declare about £150,000 in VAT payments from Chutney, on Maid Marian Way, Nottingham, to HM Revenue and Customs (HMRC) between May 2008 and October 2014.
He pleaded guilty to the VAT fraud and possessing criminal property at Nottingham Crown Court in July.
The 48-year-old was given a two-year suspended prison sentence.
Judge Stuart Rafferty told Ibrahim: "Here was a business that had real prospects of succeeding, but it all came to nothing because of your incompetence and, let it be said, your dishonesty."
Adrian Reynolds, for Ibrahim, told the court: "Running a restaurant is an all-consuming exercise and it was all-consuming for him.
"Two-thirds of the money he has defrauded has been recovered and he wants to pay the other £50,000."
The offences came to light after HMRC inspectors made an unannounced visit to Ibrahim's restaurant. On their return to check the till, officers found its memory had been wiped.
Officers had to piece together a bank and credit card trail of sales.
During this time his wife, Rukhsana Yasin, 43, claimed she was living as a single parent and fraudulently claimed more than £53,000 in working tax credits while she worked as a college support worker.
Throughout, the pair were living together with their three children at Melbury Road, in Woodthorpe, Nottingham.
In December 2014, HMRC officers seized £97,765 in cash, which was found in carrier bags inside a cardboard box, at their home.
The court was told the couple at one time owned another property, had spent £79,000 on four cars and also spent cash on gym membership, retail, leisure and entertainment.
Yasin, who pleaded guilty to tax credits fraud between 2009 and 2014, was sentenced to eight months in prison, suspended for two years.
Judge Rafferty told her: "You, too, allowed greed to intervene in your life."
Stuart Taylor, of the fraud investigation service at HMRC, said: "The couple committed fraud to fund a lifestyle beyond their legitimate income, but now they have lost their reputation."
The seized money has been forfeited and confiscation proceedings are under way to recover the proceeds of their crimes.