Kanye West trainers 'sell out in an hour' in Nottingham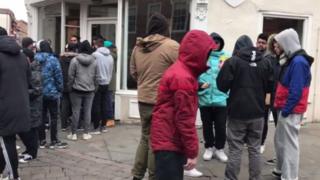 Trainer fans who camped out for four days have finally got their hands on a pair of limited edition Kanye West sneakers.
The devoted "sneakerheads" spent £150 on each pair of Adidas Yeezy Boost trainers but some were expected to re-sell them for up to £500.
The camp was set up outside Nottingham's 18Montrose shop, the only one to release them without a raffle.
The shop said it sold out of its 90 pairs in just more than an hour.
The fans brought tents, chairs and sleeping bags for the four-day wait.
Ben Rutter, 17, who had travelled from Manchester with friends to get his place in the queue, said: "We've been out here for a day or something. It's been all right - I've got a high body temperature."
Up to 200 shoppers were queuing outside the shop on Saturday morning for a chance to purchase the mainly black footwear.
One sneaker fan, Ammo, 19, from London said: "I come from London and it is quite hectic there when it comes to releases like this so we have to leave London to get a chance to get them in-store.
"Otherwise we have to sign up to a raffle for a chance to get one."
Zaheed, from Birmingham, said: "I think there are only about 19,000 pairs released worldwide so obviously everybody is going to try to come and pick up their first pair."
Kanye West
Born in Chicago and raised in Atlanta, Kanye now lives in Los Angeles
Married to reality-TV star Kim Kardashian
Launched his own clothing line in 2006
Released his first Adidas Yeezy Boosts in 2015 - which sold out within 10 minutes