Nottingham Prison: Fifth inmate dies in a month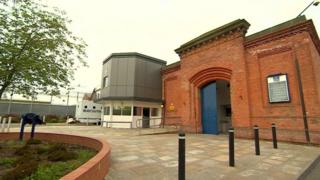 A fifth inmate has died at Nottingham Prison in the space of a month, it has been confirmed.
On Thursday it emerged four prisoners had died in four weeks, described by officials as three suicides and one drug-related.
The Ministry of Justice named the latest deceased as Marc Maltby, 23, but did not give any further details.
It said investigations by the independent Prisons and Probation Ombudsman were ongoing.
The category B prison holds about 1060 inmates.
Calendar years 2013-16 each saw three deaths, while 2007 to 2009 saw none. The previous highest numbers of deaths since 2000 was five in 2004.
In July, an Independent Monitoring Boards (IMB) report said the prison had a problem with violence and drugs.
During the year up to February, there were 199 assaults on staff, 457 prisoner on prisoners attacks and 82 fires.
A Prison Service spokesperson said: "HMP Nottingham is working closely with health colleagues to increase the support available to vulnerable prisoners and are increasing staffing levels which will boost safety and stability at the prison."