Renewed road safety calls in Meden Vale after pedestrians killed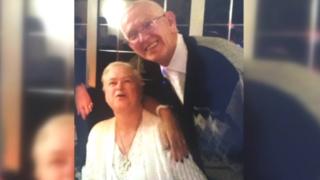 Renewed calls for road safety measures have been made after a married couple died when hit by a car.
Sandra Dangerfield, 66, and husband Michael, 72, were killed while walking along Netherfield Road, in Meden Vale, Nottinghamshire, at 13:30 on Saturday.
Residents say the 60mph (96kmph) road is dangerous and have campaigned for 14 years to get the speed limit reduced.
The chairman of Warsop Parish Council said there have been accidents on the road and a death had been foreseen.
Cllr John Allin said: "Nothing like this has happened before, but it's something we've been expecting to happen.
"Unfortunately, it was one of our neighbours, which makes it worse.
"A lovely couple that have gone together."
The pedestrians were pronounced dead at the scene.
Ambulance crews, police, the air ambulance, and firefighters attended the scene.
The East Midlands Serious Collision Investigations Unit has appealed for anyone with information or dash cam footage to contact them.