Prince Harry and Meghan Markle to visit Nottingham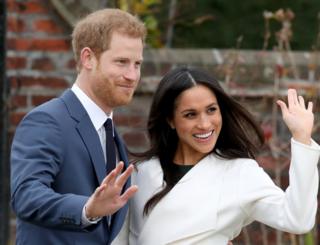 Prince Harry and Meghan Markle are to visit Nottingham to carry out their first two official engagements together.
Kensington Palace said the prince wanted to introduce his wife-to-be to a "community that has become very special to him" during the visit on Friday.
He has been to Nottingham numerous times since 2013, both publically and privately.
The latest two engagements are to raise awareness of HIV/Aids and youth crime.
Henry Kulaya, principal of Nottingham Academy, said he would be "delighted" to welcome Prince Harry to the school's Ransom Road campus for the third time this year.
"Nottingham Academy pupils are excited and feel extremely privileged that they have the opportunity to showcase the work which the prince's charity has supported and to be part of this momentous visit," he said.
"Pupils and staff at Nottingham Academy look forward to congratulating the Prince and Ms Markle on their engagement and their forthcoming wedding in May."
The first stop will be Nottingham Contemporary, an art gallery which will be hosting a Terrence Higgins Trust World Aids Day charity fair.
On arrival, the couple will meet gathered members of the community outside the nearby National Justice Museum.
They will then meet representatives from several organisations who do work around HIV and Aids in Nottingham.
Dominic Edwards, director of communications at the Terence Higgins Trust, said Harry's visit had been planned some time ago but it was an "extra delight" that Ms Markle would be coming.
"We're absolutely thrilled," he said.
"It's really important to us to get such high profile and wonderful support from the prince and Meghan Markle.
"We'll be introducing them to a variety of aspects of our work around HIV on World Aids Day and are just delighted that they will be coming."
The couple will then travel to the Ransom Road campus of Nottingham Academy.
While at the school they will meet staff and mentors from Full Effect, a programme which supports young people from the St Ann's area and prevents them from becoming involved in crime.
The programme has been supported by The Royal Foundation of The Duke and Duchess of Cambridge and Prince Harry since 2013.
Prince Harry and Ms Markle will meet young people benefitting from the programme and watch a performance by them.
They will also catch up with Chantelle Stefanovic, a child engagement worker from Full Effect who spoke alongside Prince Harry at the inaugural summit of the Obama Foundation in Chicago earlier this year.