Owen Jenkins inquest: Boy drowned trying to save friend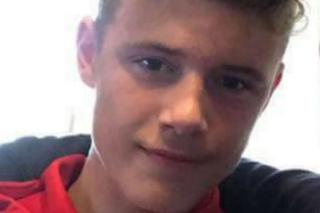 A 12-year-old boy drowned after rescuing a friend who screamed for help in a deep river, an inquest has heard.
Owen Jenkins was swept away by the current after lifting a girl out of Beeston Weir on 10 July 2017.
His body was found several hours later after a major search by emergency services.
Coroner Mairin Casey recorded a conclusion of accidental death. A post-mortem examination confirmed he died from drowning.
The inquest heard Owen went to Beeston Weir with four friends but two members of the group got into difficulty in the water.
Owen shouted to one of his friends to rescue one of the girls while he tried to get to the other, the hearing was told.
Live updates and more from the East Midlands
A statement from the girl he rescued, read to the court by the coroner, said: "I started to panic because I could feel the water pulling me. I didn't know what to do because I couldn't swim.
"I was pulled out of the water. I saw that Owen had got to me and lifted me up like someone carrying a baby.
"He then dropped me and told me to lay on my back and drift back to the shore."
Ruth Hyde, chief executive of Broxtowe Borough Council, told the inquest warning signs had now been put up around the weir.
Owen's mother Nicola Jenkins, 42, and father Gary, 43, have called their son a hero who excelled at sport, particularly rugby.
In a statement his family said Owen was "sweet, innocent and selfless and it is consistent with his character that he risked his own life to save others".
They said they had set up OWEN, the Open Water Educational Network, to raise awareness of water safety among young people.