Beeston armed robber chased away with wasp spray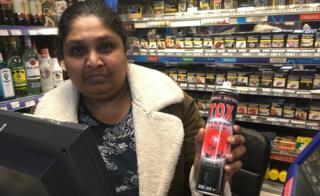 A "brave" shop owner used a can of wasp spray to chase away an armed robber.
Shiyam Gunawardena said the attacker pointed a gun at her and demanded money at Beeston Mini Market on Chilwell Road, Nottinghamshire at 11:00 GMT.
The 46-year-old said: "I was shocked, but never panicked... I grabbed the wasp killer."
Nottinghamshire Police said the masked man pointed a suspected firearm at a member of staff and fled on foot towards Imperial Road.
Mrs Gunawardena said she was serving behind the counter when the man came into the shop.
"He had his face covered and showed a gun and said 'I'm very serious, I'm not joking... give me your valuables, money, money, take out your money, open the till'," she said.
"I was a little bit shocked, but I never panicked, I never showed him I was scared," she recalled.
"I said 'you want money, wait a minute I'm going to give you money', I then pressed the panic button and grabbed the wasp killer.
"I wanted to scare him. I ran after him, I was very angry. I wanted to catch him."
'Too risky'
She said she told the attacker she would spray his eyes if he did not leave immediately.
Her husband, Marshan Gunawardena, said: "She was brave and heroic, but it was too risky, he could have shot her and it would be a different story."
Judy Sleath, chairwoman of the Beeston Civic Society, said: "Armed police arrived with machine guns and it was all a bit frightening... you don't expect this sort of thing on Chilwell Road."
Police described the robber as a white male and appealed for information.