Homeless given shelter from cold in Nottingham fire station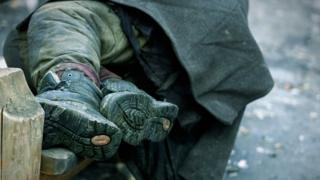 A fire station is being used to shelter rough sleepers in sub-zero temperatures.
Several people stayed at Nottingham's main fire station for four nights last week in the pilot scheme.
The city council has hailed it a success and will run it every time temperatures drop below freezing.
It said it was in response to rising homelessness despite the "No Second Night Out" initiative to end rough sleeping.
Councillor Jane Urquhart said: "We've added extra things this year because we know there are increased numbers of rough sleepers, we know more needs to be done."
Anti-begging posters used by the council in 2016 were banned for "reinforcing negative stereotypes".
These have since been replaced with posters which claim no-one need sleep rough in the city.
"We make offers of accommodation to people but sometimes they refuse that help, as difficult as that is to understand," Ms Urquhart said.
Updates on this story and more from the East Midlands
Couple Michael and Sarah, who have been sleeping rough in Nottingham "for months", said it was a "brilliant" idea.
Michael said sleeping on the streets this weekend "was uncomfortable to say the least".
"At one point I woke myself up from the shivering and vibrating."
He added the station should be open to rough sleepers "24/7, 365 days a year".
On Thursday, six people sheltered at the station's community room, which can accommodate a maximum of eight.
Rough sleepers, who are referred to the service by homelessness charity Framework, also used the room on Friday, Saturday and Sunday nights.
No beds were provided but sleeping bags, toilets, clothes and hot drinks were offered by volunteers from the British Red Cross.
Nottinghamshire Fire and Rescue said it did not interfere with its operations.
Group manager Damien West said: "Our goal is to create safer communities, and sometimes this goes further than things such as fire and road safety."