Lamborghini badly damaged in Nottingham bus crash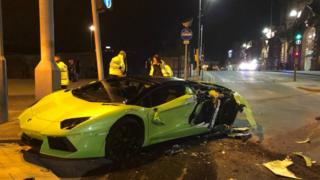 A £200,000 luminous green Lamborghini supercar suffered massive damage in a crash with a bus in Nottingham.
The smash happened at about 21:10 GMT on Sunday near Nottingham station, at the junction of Carrington Street and Queens Road.
No-one was injured, but the rear of the supercar was left hanging off and the road was closed to allow debris to be cleared.
British Transport Police, local police and the fire service all attended.