Grove and Rufford Hunt: Illegal fox hunt convictions overturned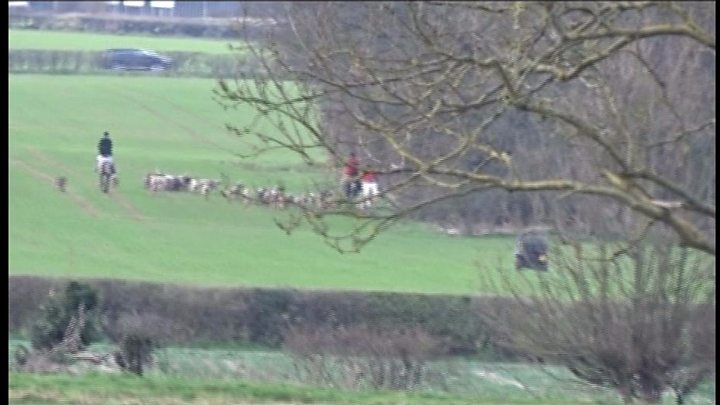 Three members of a hunt have won an appeal against their convictions for illegal fox hunting.
Paul Larby, 59, Peter White, 58, and Jane Wright, 64, of the Grove and Rufford Hunt, were convicted of hunting a mammal with dogs, in March 2017.
Footage taken in Laneham, Nottinghamshire, in January 2016 was used to prosecute them.
However, Nottingham Crown Court has heard 50 photos had not been passed to defence lawyers at the trial.
The three had insisted their dogs were on a trail when they stumbled on a fox, but the prosecution, at Mansfield Magistrates' Court, argued the footage showed no attempt to call the hounds off.
Birdwatcher Philip Palmer told the trial a fox was chased by a pack of 45 hounds in view of members of the hunt.
Both Larby and Wright were in the field, but Mr Palmer said he heard no attempt to call the dogs off.
Including costs, Larby was fined £1,128, White £853 and Wright £448.
However, on Thursday, their convictions were overturned.
Outside the court, Nick Alexander, chair of the Grove and Rufford Hunt, said the case probably would not have made it to trial had the 50 pictures emerged earlier.
He said: "It's a crazy situation and the individuals have had to live under this cloud for the last years, at a huge cost to the taxpayer for a case that should never have been brought."
Adrian Simpson, from the Countryside Alliance, said it was a "pure accident" that the fox was killed.
The Crown Prosecution Service said 209 photos and a video were disclosed to the defence, but further pictures were not used as evidence.
The CPS said: "Part way through the hearing, following a review of our position, we decided we would no longer contest the application.
"This decision was not taken due to disclosure issues."