Checks on 'Paedo hunter' sex offender Ricky Slade 'unsuitable'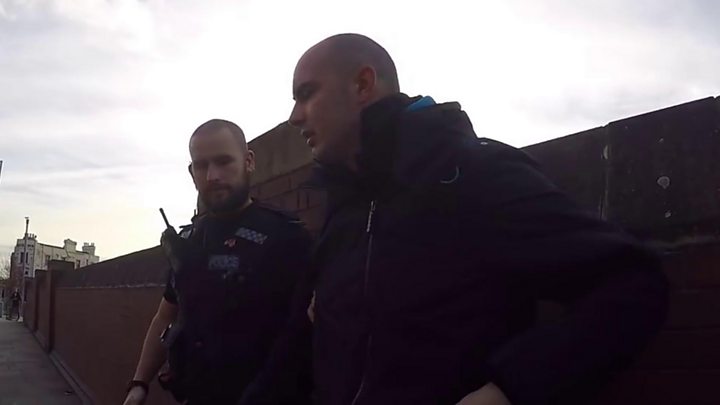 The decision to stop monitoring the mental health of a child sex offender confronted by "paedophile hunters" who later killed himself was "unsuitable", a jury has found.
Ricky Slade was found hanged in his cell at HMP Nottingham on 3 February, 2017, days before his sentencing.
The 30-year-old had chatted to members of a group called The Hunted One, who were posing as under-age girls.
Slade, 29 at the time, arranged to meet who he thought was a 10-year-old girl.
The group filmed their encounter on 19 November and published the video online before he was convicted.
Slade, from Nottingham, had admitted three counts of attempting to incite a child under 13 to engage in sexual activity and one count of attempting to meet a child under 16 following grooming.
The inquest jury in Nottingham returned a conclusion of suicide.
The jury also said communication between services was "unsatisfactory", and the decision to close a report monitoring Slade's mental health was "based on inadequate information".
The inquest heard Slade was classed as a vulnerable prisoner because of his offences, and after he cut his left wrist on 25 January an ACCT (Assessment, Care in Custody and Teamwork) document was opened to monitor his mental health.
His case was reviewed the following day, the jury heard, when his risk of self-harm was set as "low".
Slade was also interviewed by a newly qualified nurse on 2 February as part of a full mental health assessment, where he was found to be "in a low mood".
The jury heard the nurse had not read all of the forms on Slade, and did not contact prison staff following the assessment.
Slade was returned to his cell at about 16:30 GMT, and no issues were reported following a routine check at 23:00, but during another routine check at about 05:45 the following day he was seen "slumped or suspended" in his cell.
He was pronounced dead by paramedics shortly after 06:00.
Ben Waters-Bleach, from The Hunted One, said while he doesn't regret catching Slade, he sent condolences to his family.
"Obviously we don't want anyone to die - that is not why we are doing this. We are doing this to protect children."
The Ministry of Justice has been approached for comment.