Bizarre gifts declared by Nottingham city councillors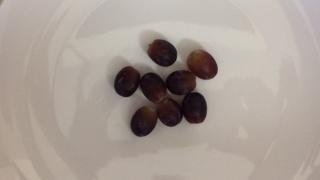 Eight grapes and a small orange were among some of the bizarre gifts declared by city councillors in Nottingham.
More than 700 gifts have been recorded by councillors since 2010, said the Local Democracy Reporting Service.
They also included bottles of champagne as well as tickets to see Drake, Ed Sheeran and Justin Bieber.
The council said it followed national guidelines in declaring hospitality to "ensure probity and transparency".
Once reported, all items are made public regardless of whether the gift is accepted or refused.
Two Chinese vases
Eight grapes, one small orange and two small bananas and tea were accepted by a councillor during a meeting to shortlist independent board members.
Other more obscure gifts included a morning suit and waistcoat and two Chinese vases.
Among items turned down were a single cup of tea, free tickets to Nottingham's Big Wheel and a buffet.
City council leader Jon Collins, who represents the St Ann's ward for Labour, has accepted tickets to Ed Sheeran, Drake, Plan B, Justin Bieber, Jessie J, Rihanna and Katy Perry.
He said: "This is already a matter of public record available on the council website. As required by legislation I always declare all offers of hospitality, irrespective of whether or not they are accepted or who they are accepted by.
"I am always careful not to accept hospitality where this involves cost to the council, for example tickets that could otherwise be sold by the council or council venues."
Bestwood Labour councillor Brian Grocock has registered more than 300 gifts, the majority of which were received while he was Lord Mayor.
Gifts included a keyring book mark, a sausage lunch and 1lb (0.45kg) of sausages.
He said: "I think it's important to be transparent in what people are saying to you and what they have offered you as an elected representative."