Oxfordshire stroke victim criticises care help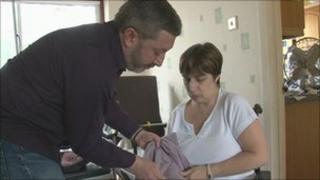 A trainee teacher who had a stroke six months ago says she has received almost no help since leaving hospital.
Karen Owers, was 42 years old and just a week away from qualifying when the stroke left her paralysed on the right side of her body.
Ms Owers has now also been told she is not entitled to a grant to help adapt her house in Aston, near Witney, because her husband is in work.
Oxfordshire County Council said it was urgently trying to resolve the matter.
Mr Owers says despite repeated requests she has not received any help since she left hospital two months ago, even though her care plan promised services like physiotherapy and an electric wheelchair.
Her mobility problems mean she is not been able to go upstairs in her house and sleeps in a bed in the dining room.
Mrs Owers and her husband Tim were told they had to pay an initial £50,000 towards the cost of making the house accessible for her.
Red tape
She said: "I've learnt to do most things with my left hand and my teeth now.
"I can stand on one foot and get in a wheelchair but it's hard to push in the wheelchair with one hand and one foot."
Her husband Tim said: "We were promised lots of things to help life which haven't materialised, so Karen really is stuck. She lives in the living room and the dining room 24 hours a day.
"Social services have tried to help but they seem to be tied by red tape.
"Every single benefit we apply for we are turned down because I have a job.
"I can't even afford a holiday let alone the £50,000 they want me to pay to go toward the cost of the changes we need made to the house to make life bearable."
In a statement, Oxfordshire County Council said: "Mrs Owers has had an interim care plan in place but we have so far been unable to facilitate Mrs Owers' long-term care plan but we are determined to ensure that this complex matter is resolved as soon as possible."