Man in court over Thame driver's death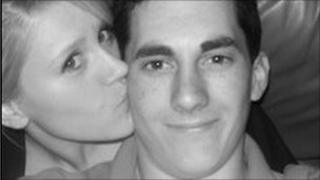 A man caused a fatal crash after attempting to overtake three cars on the A4129 near Kingsey in Buckinghamshire, a court has heard.
Greg Stiles, 18, of Thame, Oxfordshire, died when his Ford Fiesta collided with three cars on 17 May 2009.
Mr Stiles' 17-year-old girlfriend, Abigail Dowdy, was critically injured.
Sammy Edwards, 25, from Marsh appeared at Reading Crown Court charged with causing death by dangerous driving. He denies the charge.
The prosecution claims Mr Edwards was at the wheel of his father's blue BMW X5 car when he attempted an overtaking manoeuvre past three cars, the last of which it claims put him in the path of Greg Stiles and his girlfriend in his Ford Fiesta.
The prosecution said Mr Stiles took evasive action, swerving onto the verge before spinning back into the road and colliding with a different oncoming car, killing him instantly and critically injuring his girlfriend.
The trial continues.