Man over alcohol limit in crash which killed son, four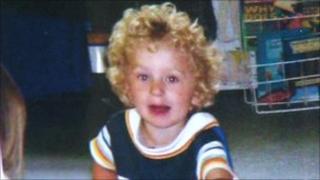 A man whose car crashed into a tree in Oxfordshire, killing him and his young son, was nearly three times over the drink-drive limit, an inquest heard.
Tony Eldridge, 36, of Bicester, had been driving at a "rapid" speed with son Bradley Eldridge, four, in the car.
The Subaru veered off Bucknell Road, Bicester, and hit a tree in February.
Coroner Nicholas Gardiner concluded that Bradley, of Charlton-on-Otmoor, was killed unlawfully, while Mr Eldridge's death was accidental.
'Lost loved one'
Speaking at Oxford Coroner's Court, Mr Gardiner said Mr Eldridge, who was seen to be driving over the speed limit on 17 February, had appeared to not be wearing a seatbelt.
"Tony Eldridge lost control of the vehicle he was driving. We can't calculate the speed of the car but circumstantially we can tell it was rapid.
"If he had survived, it appears to me that a prosecution would have been successful."
After the inquest, Sgt Bill Sykes, of Thames Valley Police, said: "We have a wide family here - brothers, sisters, parents - who have all lost a loved one.
"Potentially that loss is due to alcohol."