Thames Valley police officer denies framing lawyer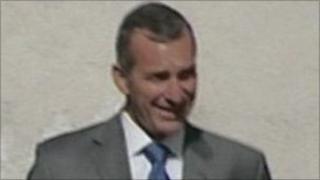 A senior police officer has denied trying to make a top City lawyer the "fall guy" for an arson attack while also having an affair with his wife.
Ch Supt Jim Trotman, of Thames Valley Police, was in a secret affair with Ian Gray's wife, Karin, when Mr Trotman's car was torched near Oxford in 2009.
At Swindon Crown Court, Mr Trotman, 45, of West Quay, Abingdon, denies arson.
He also denies attempting to pervert the course of justice for allowing Mr Gray to take the blame for the fire.
Threatening e-mails
Mr Trotman also denies two counts of fraud by false representation.
Prosecutors said in court that father-of-two Mr Trotman had doused his own Citroen Picasso in petrol and set fire to it after leaving it close to his lover's home in Boars Hill on 20 October 2009.
Mr Gray, who worked at London-based law firm Eversheds, was arrested at his home the next day on suspicion of conspiracy to commit arson.
During a second day of cross-examination, prosecutor Fiona Elder asked Mr Trotman, a former Royal Marine: "Did you set up Mr Gray to be the fall guy for the arson?"
He replied: "I have no reason to set him up. Their marriage was over. It was not in my interest to harm Mr Gray."
He told the court that hours before his car was set alight he had spoken to a senior colleague about several threatening e-mails he had received.
The e-mails reportedly showed Mr Gray had discovered the affair and had hired a private investigator.
"Did you know when you spoke to Det Supt Ashley Smith earlier that afternoon that you were going to set fire to your car?," Ms Elder asked.
"As I have said on a number of occasions in this witness box I did not set fire to the car," he replied.
Audi convertible
Mr Trotman told the court that when he learned of Mr Gray's arrest, he thought it was for suspected domestic violence offences - telling the court Mr Gray "used financial control over his wife".
Mr Gray was later exonerated when it emerged the e-mails sent to Mr Trotman had been sent by friends of Mrs Gray.
The prosecution allege that on the night of the fire, the police officer told two firemen: "I've been seeing someone I shouldn't have been seeing but keep that between me and your crew mate."
He told the court he did not tell his lover, Mrs Gray, of the fire that night because he did not want to worry her and wanted her to get a good night's sleep.
He denied Miss Elder's claim that the reason he did not say anything was because he had no reason to be concerned for her safety, as he had started the fire.
Jurors previously heard that suspicion fell on Mr Trotman when discrepancies in his account failed to match his mobile phone records.
The court was also told Mr Trotman used the £14,820 insurance money from the blaze to buy an Audi A4 convertible.
The case continues.