Driver killed in M40 gas tanker crash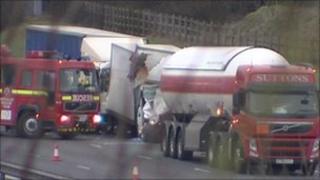 A driver has been killed in a crash involving a gas tanker and two vans on the M40 in Oxfordshire.
The accident happened at about 0615 GMT close to junction nine of the southbound section of the motorway between Brackley and Bicester.
Oxfordshire Fire and Rescue Service said the tanker collided with a van, which was then hit by a second van.
The driver of the second van, a 36-year-old West Midlands man, died at the scene. The M40 has reopened.
Police said the accident had caused gridlock on the southbound carriageway of the motorway between junctions nine and 10.
'Substantial damage'
Firefighters spent about an hour cutting the driver of the first van from the wreckage of his vehicle.
He was then taken to hospital with a suspected broken leg. The driver of the tanker was unhurt.
A cordon was put in place while an investigation was carried out.
Chris Wilson, from the fire service, said: "The tanker vehicle had received substantial damage but only to the external framework and therefore none of the gas leaked out or created any further hazard.
"We were able to access the driver of the first vehicle quickly to stabilise him and the van, to enable us to commence our rescue operations.
"Unfortunately the driver of the second van was too severely injured and did not survive the crash."
Police are appealing for witnesses.