Oxfordshire CPRE marks its 80th anniversary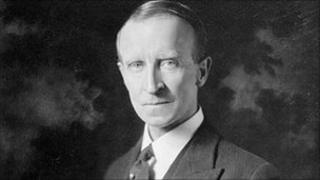 This year is the 80th anniversary of the Oxfordshire branch of the Campaign to Protect of Rural England (CPRE).
The founding meeting of the group, working to preserve the English countryside, took place on Saturday 7 March, 1931.
The first chairman was the author, MP and statesman, John Buchan.
At the time he said: "A beautiful England need not be unprogressive. Changes must come but they need not interfere with our purpose."
Exactly 80 years on and the current chairman, Alan Jones, says that people from the 1930s would probably agree that they have done a "reasonable job".
Although he conceded there were many challenges ahead, particularly the demand for new housing in the county.
'Beauty with progress'
"I think [housing] is the problem that needs attacking and it's a very serious problem in the South East and we fully accept it's a serious problem in Oxfordshire," he added.
But echoing the words of the Oxford braches' founding chairman he said: "It's not about stopping things, it's about managing things."
"When you look at all the battles that have been fought over the countryside in Oxfordshire, you soon realise there is continuous conflict between the pressures of economic growth and increasing prosperity and the need to protect our fragile countryside and natural environment.
"A civilised society has to find ways to mediate between these conflicting interests to try to give us all the best of both. As John Buchan argued in 1931, can we not have beauty with progress?"
The CPRE in Oxfordshire will be holding a number of events in 2011 to celebrate their 80th anniversary.