Mother says missing trekker Gareth Koch 'not dead'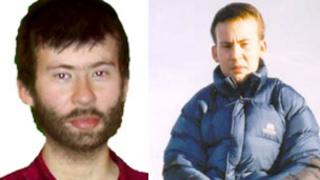 The mother of a man who has been missing for seven years says she refuses to admit he might be dead.
Gareth Koch from Wantage in Oxfordshire was 24 when he failed to return from trekking in Nepal in March 2004.
Speaking before the anniversary of his last sighting on 8 March, Jill Koch said: "I just can't say those final words - he's dead."
Mr Koch was last seen walking in the Sagarmatha National Park in Nepal after separating from his companion.
"If he got in touch and said 'you gave up on me mum', I could never live with that," Mrs Koch added.
'Healthy and positive'
His father, David Koch, said: "The person he went with had a falling out and they went their separate ways.
"He was seen a couple of days later by different people, Dutch and German people have been in contact with us but on the morning of 8 March 2004, he left a place called Chukung heading back to Kathmandu and that's the last reported sighting of Gareth."
Gareth Koch had always been an outdoor enthusiast. At weekends he would go walking in Snowdonia or the Peak District, hiking to improve his fitness.
As a Scout leader he had been helping with the Duke of Edinburgh Award.
When he was last seen in Nepal he was said to be healthy and positive.
"It wasn't a remote trail, it was a very busy trail so it makes it doubly difficult to understand how he could disappear but he has," said Mr Koch.
Both his parents have never given up hope of finding their son.
In 2004 their community in Wantage raised enough money to send them to Nepal to recreate their son's footsteps, but they did not manage to find any trace of him.
His passport, his luggage and his camera have never been found.
Over the years, the family has contributed to a Foreign Office guide to missing people and helped release a Trekker Intention Book which is left in lodges in Nepal enabling travellers to sign in and out.
The hope is that if another unexplained disappearance should occur, friends and family will be able to narrow down the search.
"The mistake Gareth made was that he was by himself," said Mr Koch. "If you stay with someone else, if he'd stayed with his colleague, I believe today that he'd be with us."