Oxford film-maker's bid to get project into cinemas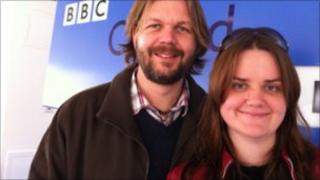 An Oxford-based director has spoken about the difficulties of getting British films into cinemas.
Martyn Chalk who is currently in pre-production of a comedy rugby film set in Oxford said: "It's only one or two [British] films that get through."
But he is confident a partnership with an Indian-based production company will make his latest project a success.
The community film, No Balls, is due for release in September to coincide with the Rugby World Cup.
Producer Rubia Braun said: "I think the rest of the world holds British film in very high esteem so I was very excited to come over here."
Mr Chalk came up with the idea for the film after driving back from his ex-girlfriend's rugby match.
Since then he has written the script with co-writer Simon Porritt and been to Cannes to pitch it.
Local actors
After some good feedback, he was joined by Ms Braun and they are now looking for local actors to get involved.
Mark Cope, former guitarist with the Oxford band The Candy Skins, will be advising them on which local musicians to use in the production.
Anyone looking to get involved should visit the No Balls website to leave their details.
Ms Braun said independent film was difficult during the recession but it was now back "with a vengeance".