Couple 'fired over early dinner' at Oxfordshire estate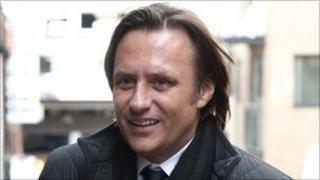 An Oxfordshire multi-millionaire sacked two of his staff in a fit of rage over a chicken dinner served too early, a tribunal has heard.
Francisco de Sousa and his wife Maria are claiming unfair dismissal after losing their jobs at North Aston Hall, the home of businessman Kevin Cash.
Mr Cash has denied being the couple's employer, saying they were employed by the estate's management company.
He also told the hearing in Reading that Mr de Sousa had stolen documents.
Property developer Mr Cash said: "To have come across these documents, Francisco must have been going through my private things.
"He stole those documents and they were only returned to me after a threat of injunction by my solicitors."
The tribunal previously heard that Mr Cash had shouted with rage and sacked Mr de Sousa after his meal was served at the wrong time - an accusation denied by Mr Cash, who described it as a "trivial matter".
'Get out'
The incident, in December 2009, is alleged to have happened after Mr de Sousa served dinner an hour earlier than Mr Cash was expecting, saying his partner, model Carla La Reservee, had asked him to do so.
Mr Cash, who told Mr de Sousa he had been mistaken, said: "Francisco grew increasingly irritated that I would not accept that what he was saying was true. Francisco said that I would not believe him over Carla because I was sleeping with Carla."
Mr Cash, who was offended by the comment, said he told Mr de Sousa: "I don't want you in the house. Get out."
He told the tribunal he contacted the estate's property management company, Oakmere, to say he did not want Mr de Sousa working there any more.
He also claimed Mr de Sousa, who lived on the estate, wanted a six-figure sum to leave the property so he could "buy a house".
Mr Cash told the hearing he contacted police to recover an Audi A4 and a laptop he had lent to Mr de Sousa.
The couple eventually moved out of The Stables in March 2010.
James Wynne, representing Mr de Sousa, said Mr Cash was "ignoring the legal niceties of an employer" by denying he employed the de Sousas.
The tribunal continues.