Plans released for Frideswide Square improvements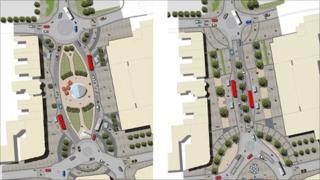 Two new plans to improve Oxford's Frideswide Square and ease congestion outside the railway station have been revealed by Oxfordshire County Council.
The £5m scheme will redesign the space which has been criticised by motorists, pedestrians and cyclists.
Conservative councillor Ian Hudspeth, responsible for transport on the council, said: "It doesn't work for anybody."
If cabinet members approve the plans a public consultation will then be held.
The Conservative led county council does not have the money to pay for the scheme but is developing the plans so the authority is "fully prepared" when it has the funds.
In the summer it will put in a bid for money from the government's new Local Sustainability Transport Fund.
Councillor Hudspeth said: "If we are successful in that we will then be able to deliver Frideswide Square."