Oxford woman recalls Japanese earthquake 'terror'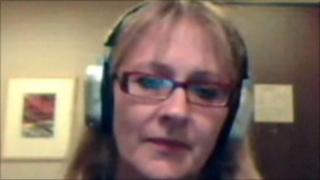 An Oxford woman has described how she survived being caught up in the Japanese earthquake.
Charlotte Capanni was visiting the Oxford University Press offices in Tokyo when the 8.9-magnitude tremor struck on Friday.
She said part of the ceiling collapsed in the room she was in but she escaped unhurt with colleagues.
The marketing head told the BBC she was hoping to return to the UK on Monday but flights were "proving problematic".
The tremor struck in the afternoon local time off the coast of Honshu island at a depth of about 24km, 400km (250 miles) north-east of Tokyo which triggered a tsunami.
Meanwhile a massive explosion has rocked a nuclear power following the disaster.
Japanese officials say the container housing the reactor was not damaged and that radiation levels have now fallen.
A huge relief operation is under way after the disaster which is thought to have killed at least 1,000 people.
'Under a table'
Ms Capanni, 46, was visiting colleagues when the tremor struck.
"The Japanese staff knew what they were doing and they shouted at me to get under a table," she said,
"All I was thinking was that I was on the eighth floor of this building, if it does go down I just didn't have a chance of survival. It was really terrifying.
She said there was an "amazing feeling of friendship" in the office before they made their escape
"When the main tremor stopped part of the ceiling had come down and there was smoke and dust everywhere.
"We were tearing down the stairs to get outside.
"It wasn't until much later I really realised what the effects were and how lucky we were compared to other people. We got away unscathed really."
Ms Capanni hopes to return to the UK on Monday but said flights were proving problematic.
"It's strange, everything in Tokyo is operating absolutely as normal, you really wouldn't know anything has happened.
"However, I've heard the reports on the nuclear plant, and have decided enough is enough and am trying to get myself back to the UK."