Culham school 'can be saved' say parents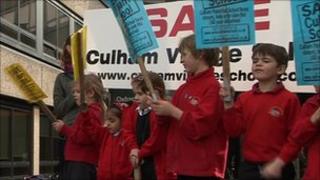 Parents and governors of an Oxfordshire school say they are confident they can save it despite a closure notice.
On Tuesday councillor Michael Wayne, from Oxfordshire County Council, said they were going ahead with moves to shut Culham school near Abingdon.
The council's main concerns are that the school only has 24 pupils, it has a projected deficit of £50,000 and has not had a head teacher for two years.
But parent Kitson Thomas said the council had left them options.
Mr Thomas, who is also chair of the Save Culham School Campaign, said: "We've got a very good chance of saving our school and I think the council actually acknowledged that yesterday."
According to Mr Thomas the school's "rejuvenated and revitalised" governing body had addressed two of the council's main concerns and now all they had to do was appoint a head teacher.
'Enormous pressure'
He said the projected deficit had been reduced by a £20,000 grant from the diocese of Oxford and pledges of about £15,000 from the community.
And the school had addressed the issue of falling pupil numbers, from 46 in September 2009 to 24 today, by gathering letters of commitment to enrol pupils from local parents when a new head was appointed.
The school will now be interviewing applicants on Monday and Mr Thomas said they already had several applicants.
"Obviously we are under enormous pressure to appoint a head but the person we need to appoint has got to be the right one or it will be a self-defeating process," he said.
Councillor Wayne, the cabinet member for school improvement on the council, said they were forced to issue the statutory notice otherwise they might leave the children's future "dangling on a thread".
But he said they were prepared to rethink the decision if their requirements were met.
The council will decide on the fate of the school at a meeting on 24 May.