Oxford's John Brookes honoured with blue plaque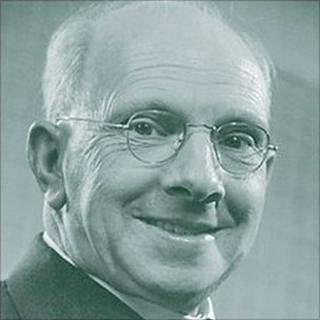 A blue plaque has been erected to commemorate the man who gave his name to Oxford Brookes University.
John Henry Brookes was a stone-carving teacher who came to work in the city in the 1920s at what was then called the Oxford City School of Arts and Crafts.
The plaque, at 195 The Slade in Headington, marks the former home of Mr Brookes, who died in 1975 aged 84.
Oxford Brookes honorary fellow Bryan Brown said: "I am absolutely delighted."
He added: "This is part of my campaign to reassert John Brookes in the life of the university and indeed the city."
When Mr Brookes became headmaster of the art college in 1928 it had two staff and 90 students.
By 1950 he had transformed it into an institution with over 4,000 students at 19 sites across the city.
'Distinctive name'
He was so popular in Oxford that 17 different parties were held for him when he retired in 1952.
The institution later became the Oxford College of Technology and in 1970 was again renamed, as Oxford Polytechnic.
"A number of polytechnics became universities in 1992 and that's when it became Oxford Brookes University," said Mr Brown.
"Some 20 years on I think the name is really well established and I think it is quite distinctive in the higher education sector."
Kate Tiller, chair of the Oxfordshire Blue Plaques Board, said the plaques were a great way of celebrating people who have played a significant part in Oxfordshire life.
"We hope the blue plaques will make people aware of the importance of localities and individuals that they hadn't come across before," Dr Tiller said.