PM confirms Oxfordshire repatriations route switch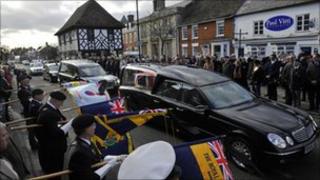 David Cameron has confirmed repatriations will be held from RAF Brize Norton from September.
RAF Lyneham in Wiltshire is to be shut at the end of 2012 with the majority of its places, kit and personnel moving to the Oxfordshire base.
It means corteges will no longer go through Wootton Bassett on their way to the John Radcliffe Hospital, in Oxford.
Carterton now looks likely to take over from the town in providing parades for fallen soldiers.
Mr Cameron also announced that Wootton Bassett is to be the first town in more than 100 years to get the title of "Royal" in recognition of its efforts to honour the UK's war dead.
David Cameron made the announcement during Prime Minister's Questions.
In a written ministerial statement, Defence Secretary Liam Fox said: "I am certain that RAF Brize Norton will maintain the standard of solemnity, dignity and respect to our service personnel killed on operations as shown by the personnel at RAF Lyneham."