Bicester's eco-town plan criticised by experts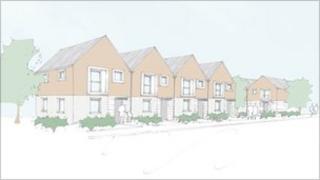 The first phase of Bicester's new eco-town has received criticism from experts during an initial consultation.
The flagship project in Bicester was chosen as one of four such developments in England last year.
But in a report for Cherwell Council's planning committee the Environment Agency objected to the application as did Oxfordshire County Council.
Ian Inshaw, chairman of the development company P3 Eco, said they can fix the various concerns.
He said: "You'll find that once it gets to Cherwell District Council planning authority in May we will have produced exactly what they have required."
'Eco-credentials'
The North West Bicester Eco Town is looking to get full planning permission for 394 residential units along with an energy centre, a nursery, a community centre, 3 retail units, an Eco-Business Centre, office accommodation, an Eco-Pub and a primary school.
The layout for the development has yet to be determined.
The Commission for Architecture and the Built Environment (CABE) said: "The eco-credentials of the scheme are limited and there is little deviation from the standard suburban housing model.
"For the exemplar site, we would expect to see a proposal that captures the essential aspirations of an eco-town: the current proposals fall short of that mark."