Mara Yamauchi asks runners to sign up to support Japan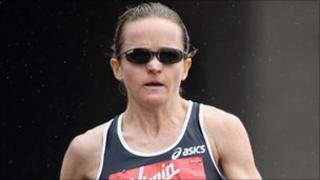 Oxford-born athlete Mara Yamauchi has become an ambassador for a new website set up to raise money for the Red Cross in Japan.
RunForJapan.com allows people contribute a run to a collective effort to circumnavigate the world in 28 days.
Yamauchi, 36, was living in Japan until February when she returned to the UK to prepare for the Olympics.
The marathon runner said she could not believe the "incomprehensible scale of the devastation" in the country.
Her Japanese husband, Shigetoshi Yamauchi, arrived in London the day before the earthquake hit.
She said: "We were in our new flat and woke up on the Friday morning and switched on the TV and just couldn't believe what we were seeing, the combination of the earthquake, the tsunami and then the problems they've had at the Fukushima nuclear plant."
Mrs Yamauchi, who is the second fastest ever British female marathon runner behind fellow athlete and website ambassador Paula Radcliffe, encouraged the running community to come together to help.
She said: "Through the website you can do something for the situation in Japan yourself by running and also by donating money."