Climbdown over Oxfordshire rubbish tip plans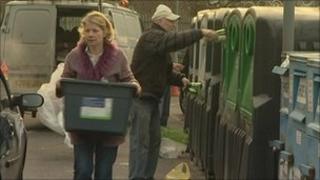 Councillors have backed down over plans which would have left Oxfordshire with only one tip for general rubbish.
The county council proposed leaving a newly-built site in Kidlington as the sole location for non-recyclable waste.
But following criticism they have now agreed to keep the Redbridge tip available at weekends.
The plans also involve the current eight household waste recycling centres being reduced to five. A final decision will be made in April.
Waste recycling units at Dean Pit in West Oxfordshire, Stanford in the Vale in the Vale of White Horse and Ardley in Cherwell would all be closed under the plans.
The Redbridge site in Oxford had been due to be converted to only take trade waste, but may now be available at weekends for residents.
Oxfordshire County Council said it has made the concession after listening to residents' views.
The proposals, which will be phased in over four years, are expected to save £750,000 a year, with £50,000 of those savings being reinvested to provide assistance to the district councils.
Despite this Mr Reynolds said Cherwell might have to put up costs for things such as bulky item collections.