Oxford's Bate Collection donated 'oldest' artefact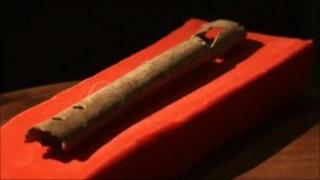 A museum has been given a 13th Century penny whistle which is thought to be the oldest item in its collection.
Oxford University's Bate Collection of Musical Instruments was donated the fragile bone find by the estate of Mr Peter Henderson who died in 2010.
It is thought to be 100 years older than any other exhibit in the collection.
Museum manager Andrew Lamb said getting an early instrument like this was "very exciting indeed".
The medieval whistle was found during an archaeological excavation in Abingdon during the 1960s.
It is likely to have been used at common folk performances.
"We do have instruments very much like it in this day and age, dare I say it, Morris dancers use them," said Mr Lamb.
"They play a little three-holed pipe and beat a drum simultaneously, so it's the kind of instrument that you could play just using one hand."
'Too fragile'
Mr Lamb said that their previous oldest instrument, which is also a whistle, was valued for insurance purposes at about £7,000 and this exhibit would be about the same sort of price.
But despite its value it will never be played.
"Whilst we do encourage people to play our more robust instruments, and we've got a nice solid collection of things they can handle and play, anything that's too fragile I'm afraid we do draw the line," said Mr Lamb.