Mother's plea over dead Oxford student's stolen laptop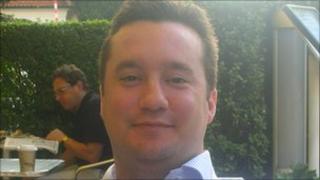 The mother of a student who died suddenly has appealed for the return of his laptop containing vital work after it was stolen following his death.
William DeJanes, 33, who had a medical condition, was found dead at home in Cowley Road, Oxford, on 15 March.
Two days later the flat was raided and his Sony VAIO laptop containing his final dissertation was stolen.
Two people were arrested but the laptop is still missing. Mr DeJanes' mother said the work was his "life's legacy".
Sherry Donovan and her husband Gerry have come to the UK from their home in Kansas City, USA, for the funeral of their son.
He was due to hand in his final dissertation on the topic of Aids and HIV prevention.
'We owe him'
Mrs Donovan, who said his death was not linked to the disease in any way, added: "My son was a warm, generous person who cared deeply about helping others.
"William's love of travel took him to South Africa as an undergraduate.
"It was because of what he witnessed that he devoted himself to Aids and HIV prevention.
"We hope to get the hard drive or the flash drive back [from the laptop] so we can finish William's dissertation and get it published posthumously. It is his life's legacy and we owe him that."
Mr DeJanes' mobile phone was also taken in the burglary.
A 32-year-old man and a 30-year-old woman were arrested and bailed until April.
Anyone with information has been asked to contact Thames Valley Police.