Anjali Dance Company could close due to funding cuts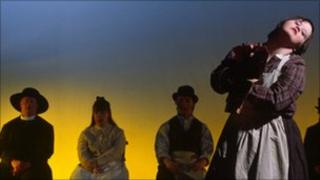 An Oxfordshire dance company for people with learning disabilities is set to close just months after performing at The Birmingham Hippodrome.
Staff at the Anjali Dance Company say funding cuts mean they will close in March unless they can raise £8,000.
The company began in 1995 and has had four national tours and played at the Royal Opera House.
Dancer Daisy Garrett said Anjali meant the world to her because it allowed her to shine despite her disability.
Talking about the possible closure she said: "I feel really scared because it's affecting my life."
The Banbury-based company say they have a funding deficit as a result of cuts in grants from the Arts Council and The Learning and Skills Council.
Nicole Thomson, Anjali's founder and artistic director, said: "The prospects for next year are very good for Anjali if we can get past this challenge."