Mother warns about the blood disorder thalassaemia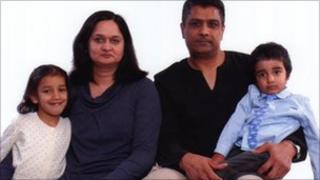 A mother from Oxford is attempting to raise awareness of a potentially fatal blood condition after her daughter was diagnosed with the disease.
Sabrena Afridi, from Marston, was born with thalassaemia which is an inherited blood disorder that affects the body's ability to create red blood cells.
As a result she has to have a blood transfusion every three weeks.
The only cure is a sibling bone marrow transplant but that is not possible because the seven-year-old is adopted.
Her parents Sobia and Amjad Afridi said they spent about three years becoming approved adopters in the UK and faced another year or more before they were matched with a child in this country.
As a result they decided to adopt in Pakistan where the family has relatives.
The adoption agency they used had a cot outside the building where people could leave unwanted children.
Blood test
"On the side of the cot it says don't kill children, leave them here," said Mrs Afridi.
"There's a rope that's attached to the cot that goes upstairs and as soon as a child is left the bell rings and someone comes down to collect the baby," she added.
After eight and a half months they were given a visa to bring Sabrena back to Oxford where she collapsed and they discovered she had thalassaemia.
Mrs Afridi said that although adopting Sabrena was the best thing she had ever done she wanted more people to be aware of the condition.
"Without sounding blunt, it costs a lot of money to give treatment to children and adults who have thalassaemia," she said.
"I think we should be looking at more education for parents who are carriers, all it takes is a blood test to find out."