Lung cancer drug trial starts in Oxford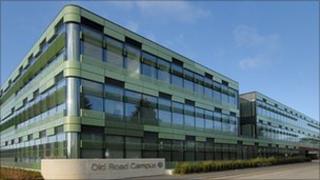 Scientists in Oxford have started trialling a new drug to treat people with lung cancer.
Patients who are no longer responding to chemotherapy are being given the treatment which stops the growth of cancerous cells.
It is one of the first trials at the new Oxford Cancer Research Centre.
Dr Denis Talbot, trial chief investigator, said: "We hope that it may increase rates of survival for lung cancer patients."
Part of the pre-clinical work for the development of the drug was carried out at Oxford University by a Cancer Research UK-led team.
It showed that the drug was effective in lung cancer cells.
Dr Talbot said it was "greatly encouraging" that the drug could be further developed.
"Survival from this disease still remains low," he added.
"One reason is that the majority, 65-75 per cent, of lung cancer patients are diagnosed when the cancer has already become aggressive, which makes it more difficult to treat successfully.
"There's an urgent need to develop new medicines which may provide additional options for these patients."
'Important trial'
Jean Scurlock, 66, of Didcot, is one of the first patients in the UK taking part in the treatment.
First diagnosed on her birthday in October 2010, Mrs Scurlock had four cycles of chemotherapy which she did not respond well to.
"Someone has to do the research as we wouldn't get anywhere if no-one volunteered," she said.
"When I was accepted onto the trial, it immediately made me feel more positive as it felt that I was able to help."
Dr Lesley Walker, of Cancer Research UK, said: "We have made progress in recent years to discover new ways to tackle lung cancer and this important trial brings further opportunities for this hard to treat disease."
Fewer than 10% of lung cancer patients survive the disease beyond five years after diagnosis.
Non-small cell lung cancer accounts for about 85% of all lung cancer cases.
About 30,000 people are diagnosed with this form of the disease each year in the UK.