Duke of Edinburgh visits Defence Academy in Shrivenham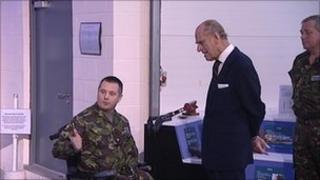 The Duke of Edinburgh has visited the Defence Academy in Shrivenham in Oxfordshire.
It marked the 10th anniversary of the building of the Joint Services Command and Staff College (JSCSC) which he officially opened in 2001.
The JSCSC was set up to train the future commanders and officers of the British army, RAF and the Royal Navy.
The prince unveiled a plaque to commemorate his visit and met staff and current students.
Director General of the academy, Lieutenant General Andrew Graham, said: "To be appreciated and have someone as interested as His Royal Highness visiting and asking them questions... it's been very uplifting for everybody."