John Radcliffe neonatal unit set to be doubled in size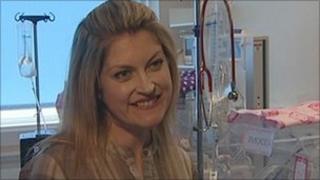 A specialist newborn unit at the John Radcliffe Hospital in Oxford is set to be doubled in size to cope with demand.
More than 200 seriously ill and premature babies a year are treated at the neonatal intensive care unit, an increase of 80% in the past five years.
The hospital wants to double its number of cots from 10 to 20, which is likely to mean a separate unit will have to be built costing about £3.5m.
The plans will be discussed by the hospital's board on 7 April.
Other alternatives could involve completely rebuilding the current unit, which could cost about £27m.
But the trust has been told it will not be given extra funding for the expansion, which has been highlighted as a priority, so it may be forced to scrap other projects.
'Struggle for space'
The demand has become so great that some mothers have been turned away and transferred to Bristol, Leicester or Reading.
Renee Harris had twins Imogen and India at the unit about six weeks ago.
She said: "It was a normal pregnancy and everything was going fine... up until week 27.
"I read a lot about pre-term delivery and knew the signs and knew something was wrong.
"I was very worried I might have to go as far afield as Southampton which would have been pretty scary. But they managed to get me two beds at Oxford.
"I've got into a routine, I go to Oxford which takes me about 40 minutes and get to be with the girls... if I had to go to Southampton I would probably have to stay there, be away from my husband, it would be horrendous."
Kate Convery, matron of the unit, said: "On our busiest days we do struggle to have enough cots.
"We tend to run out of equipment fairly quickly, we will run out of nurses quite quickly and physical space is a big issue."