Memorial to dead 78 Squadron pilots opens at RAF Benson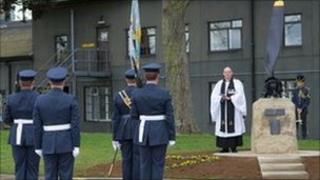 A memorial commemorating pilots from an RAF unit who died in action has been unveiled outside a hangar at RAF Benson in Oxfordshire.
It is a tribute to more than 1,000 personnel killed since 78 Squadron was created in 1916.
The structure incorporates a propeller from a 78 Squadron Halifax bomber shot down over Holland in World War II and recovered in 2005.
Men who flew bombers in World War II attended the memorial's opening.
Also present was Flight Lieutenant Michelle Goodman, the first woman to receive the highest award for pilots, the Distinguished Flying Cross.
Wing Commander Dan Startup said squadron members had created the memorial and "spent a lot of time, their own time, putting it together".
The memorial includes a propeller from a bomber shot down over Hank, Holland, in 1944 after a successful attack in Germany.
All seven crew members were killed.
Two of the crew were thrown clear of the plane and buried locally. The other five men sank with the bomber 30ft (10m) into marshland.
In 2005, most of the aircraft and the bodies were recovered following a fundraising campaign by local villagers.
All seven victims were reburied with military honours in 2005 and the propeller donated back to 78 Squadron.
It was collected last year when squadron members went to lay a wreath in memory of the lost pilots.
The propeller is mounted on a chiselled piece of Halifax stone, which was donated by Rand and Asquith quarry.