Southampton to Midlands £70m rail route revamp complete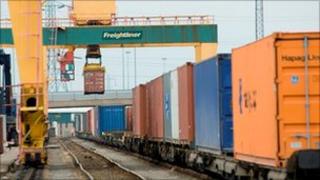 A £70m upgrade of the rail route between Southampton docks and the Midlands has been completed after two years of work, £10m under budget.
The route between Southampton and Nuneaton, via Reading, Didcot, Oxford and Banbury, will take up to 50,000 lorry journeys a year off roads.
It will mean trains can distribute freight more quickly and economically.
Network Rail has said much of the traffic on the A34 is caused by lorries taking goods to and from the port.
The aim is to get 40% of containers going through Southampton Port on to rail, rather than road.
During the work, Southampton tunnel was made deeper and more than 20 bridges were rebuilt. Passengers were not affected.
Adam Cunliffe, of Freightliner, which operates freight trains, said: "Today we'll be running two extra services.
Levy controversy
"That allows us to take up to 170 boxes, which would have otherwise gone by road, on to rail.
"That benefits not just the local community but the entire [transport] network."
But the way the owner of Southampton Port - Associated British Ports (ABP) - plans to recover its share of the cost is causing controversy.
Shipping companies have complained to the Office of Fair Trading about plans by ABP to levy a surcharge of £3 on every container for the next eight years.
From this week, the levy will also apply to road freight as well as containers going by rail.