Oxfordshire hospitals development plan moves forward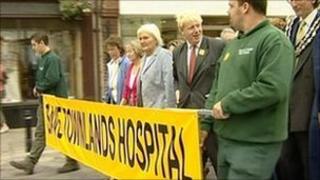 Health bosses have agreed the next step of a multimillion-pound redevelopment of two Oxfordshire hospitals.
The proposals would see a new 60-bed care home built at Henley's Townlands Community Hospital which would retain its 18-bed facility.
Plans are also moving forward to develop Bicester Community Hospital, which would move to a new site but retain its 12 beds.
South Central Strategic Health Authority will decide on the plans.
If successful, a list of developers interested to work on the plans will be drawn up in June.
Richard Darch, NHS Oxfordshire's project lead, said: "I'm pleased that the board has given us the go ahead to carry on with the work.
"I'm encouraged by the progress we have made so far and the good response we've had from developers interested in carrying out the work."
Townlands Community Hospital has been under threat of closure in the past and was the subject of a long-running campaign to keep it open, which was backed by the then Henley MP Boris Johnson.