Awards for Deddington car 'inferno' rescue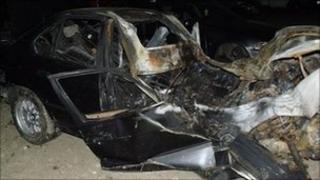 Four people have been honoured for their bravery after rescuing a man trapped in a burning car on an Oxfordshire road.
Nicola Clewer, 26, Andrew Giles-Bussure, 46, Adam Sweetingham, 25, and Robert Gibbs, 33, received awards at Thames Valley Police's headquarters.
In April 2010 they saved Anton Moiseyev, 25, of Kirkcaldy, Fife, from an accident near Deddington.
Sgt Pete Jell said if they had not acted Mr Moiseyev would have died.
Ms Clewer, from Deddington, was first on the scene after Mr Moiseyev lost control of his BMW on the A4260.
She first noticed a large fire on the side of the road.
'So much pain'
"I'm not going to lie, I was absolutely terrified," she said.
"It was just before midnight - a bit of a funny time to be having a bonfire."
She called the emergency services and managed to persuade a man in a Peugeot to stop and help her open the door of Mr Moiseyev's car.
She then went back to Deddington where she collected Mr Giles-Bussure, also from Deddington, Mr Sweetingham, from Manchester, and Mr Gibbs, from Yorkshire, from the local pub.
When they returned the man from the Peugeot car had left the scene.
By this time Mr Moiseyev had resigned himself to the fact he was going to die in his car.
"I was in so much pain and there was nothing I could do about it. I just fell asleep and thought that was the end of my life," he said.
But despite the flames, and without hesitation the three men managed to pull Mr Moiseyev over the head rest of his seat and through a back door.
Ms Clewer said: "It was a raging inferno, not the kind of thing you could have stood next to at a bonfire night with sparklers - those boys really risked their lives."
Mr Jell, who nominated the four for the award, said he had particular admiration for Mr Giles-Bussure who entered the vehicle.
"Had the car exploded, he was in it, he wouldn't have been able to get out," he said.
Mr Moiseyev, who is originally from Latvia, lost both his legs below the knee in the accident because they had been so badly burnt.
He says he is enjoying his life to the full and is incredibly grateful to everyone involved in saving his life.