CCTV released in For Sale sign arson investigation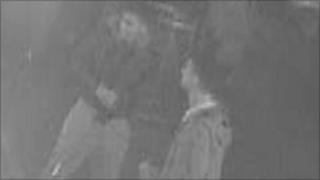 A CCTV image has been released by police investigating a series of arson attacks on For Sale signs in Oxford.
A total of 18 signs were set on fire between 13 March and 22 April, mostly around London Road in the Headington area of Oxford.
Police are now trying to identify two men caught on CCTV setting light to a kebab box at the Waitrose store in Headington on 8 April.
Officers said the motive behind the attacks was unclear.
Pc Zoe Eele said: "At one of the incidents paramedics travelling along the London Road saw a sign on fire.
"The paramedics pulled the sign down and extinguished the flames, which were starting to spread to a connecting fence.
"I would urge anyone with information about these incidents to come forward and speak to me as soon as possible.
"London Road is a busy road at all times of the day with traffic coming in and out of the city, and I believe someone must have seen something."