Morris car designer's home Nuffield Place 'needs cash'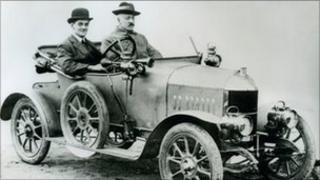 A charity has launched a campaign to reopen the Oxfordshire home of the founder of the Morris Motor Company.
Nuffield Place was the home of Lord Nuffield, formerly William Morris, who launched the first Morris motor cars.
Oxford's Nuffield College, which owns the house in Huntercombe, near Henley on Thames, has offered to donate it to the National Trust.
The charity says it needs to raise £600,000 to reopen the 1930s "time capsule" property to the public.
Lord Nuffield lived at Nuffield Place from 1933 until his death in 1963 and the contents of the house have remained largely unchanged since that time.
During his life he gave away about £30m, the equivalent of £11bn today, to support hospitals, education and medical research.
He left the house to Nuffield College which has recently offered it to the National Trust in a bid to preserve it.
National Trust general manager Richard Henderson said: "Despite Lord Nuffield's extraordinary philanthropy and achievements, he remains relatively unknown.
"His home is a wonderful time capsule without any of the show of a multi-millionaire and reveals so much about the man who changed many people's lives for the better."