Thousands celebrate May Day in Oxford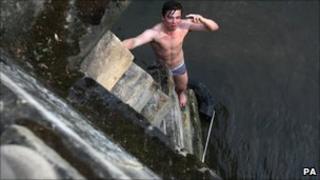 Crowds of up to 18,000 people have been celebrating May Day in Oxford.
Many gathered on and around Magdalen Bridge to hear choristers sing hymns at dawn from the tower at Magdalen College.
The tradition dates from the 17th Century. Afterwards celebrations continued across the city.
Police said nobody jumped from the bridge, which was open this year after being closed on May Day morning for the past five years to deter jumpers.
However, some students decided to swim in the river instead.
In 2005, 40 people were hurt when they jumped into the river and the county council said the cost to the health service that year was about £50,000.
Low water levels
However despite it being shut during subsequent years many people ignored safety warnings and broke through barriers to jump from the bridge.
Last year, about 30 revellers jumped from Magdalen Bridge.
Prior to this year's event paramedics and police urged people to think about their behaviour and warned about the "extremely low water levels".
Maria Langler from South Central Ambulance Service made a video warning about the dangers of jumping from the bridge.
She said the water was only about two-feet (0.6m) deep at the moment and concealed items like broken bottles and abandoned bicycles under the water could be dangerous to jumpers.
Other events taking place across the city, included morris dancing, folk music and special performances at Oxford Castle.