Katie Price seance in Oxfordshire church criticised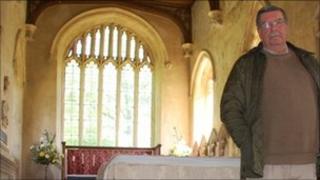 The model Katie Price has been accused of taking part in a "blasphemous and sacrilegious" event in a church.
In the ITV programme Ghosthunting With.... she visited a church in Great Tew in Oxfordshire and tried to use a Ouija board to contact spirits.
The Rev Bernard Rumbold claimed the production company did not have permission. The matter has been referred to church lawyers.
Antix Productions said: "We had all permission slips signed."
The Archdeacon of Oxford, the Venerable Julian Hubbard, said the recording took place without permission from the diocese.
Speaking on BBC Radio Oxford he said: "There is a very clear process which people need to go through if they want to film in a church."
"It involves getting special church legal permission called a faculty.
"Certainly no application was made for that and if it had been it wouldn't have been given. It's completely inappropriate."
In a later statement he said: "This is clearly a situation we take very seriously. The issue is being taken forward by the diocese's lawyers."
'Quite a shock'
Mr Rumbold said he was seeking an apology from the programme makers following the broadcast last August.
He said the ceremony was "a rather blasphemous and sacrilegious thing to do".
"It was quite a shock to me and to many people in the village," he said.
In a statement Antix Productions said: "We spoke to the clergyman on the night outside the church in question.
"He was given the full rundown as to what would be happening.
"No apology was offered as we have not, until now, been made aware of any unhappiness.
"Obviously if anyone was upset we do offer our sincere apologies."