Rare opportunity to see Oxfordshire's museum artefacts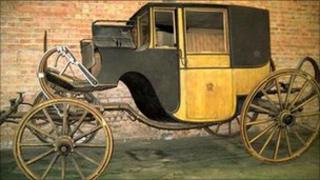 People are to be given an opportunity to see some of the artefacts held at Oxfordshire's Museums Resource Centre.
The facility in Standlake near Witney is normally only accessible by appointment but on 8 May it will be holding an open day.
The thousands of items reflect life in Oxfordshire and have been preserved in the purpose-built pavilion.
Event coordinator Phil Platt said it was a great chance to be guided through the collection by experts.
The centre acts as a storage facility for the Oxfordshire Museum in Woodstock and about five smaller partner museums in the county.
It also houses the conservation section and design department that helps produce the displays the public see at the various museums.
"To give you an idea of the size of the centre, there are 46,000 items in the social history section and about the same again in the archaeological unit," said Mr Platt.
These artefacts act as a reserve for all the museums to enable them to keep their own displays fresh and new.
Fine gloves
"They also simply don't have the room to put all of these objects," said Mr Platt.
All the items it houses were either made or used in Oxfordshire giving the collection a unique relevance to the county.
Exhibits like the horse-drawn coach owned by the former Oxfordshire MP Joseph Warner Henley will be on display on the day.
Henley lived in Waterperry and was MP for the seat of Oxfordshire from 1841 until 1878.
His four-wheel coach was donated to the Oxfordshire Museum Service by the Victoria and Albert Museum and dates from the 1820s.
There is also a recently acquired collection of fine gloves that were made in the Woodstock area and a fragment of scale armour from the Roman fort of Alchester near Bicester which dates from the 1st century.
Although much of the collection is housed in boxes and packed away the guided tours and specialists available on the day will be able to take visitors through some of the collection's highlights.
The open day runs from 1000 to 1600 BST on 8 May 2011.