RAF Falcons celebrate 50th anniversary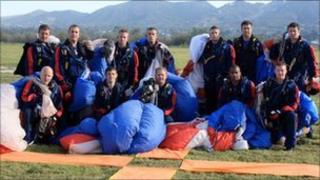 The RAF's parachute display team, the Falcons, have launched their 50th anniversary season with a jump at their base at Brize Norton in Oxfordshire.
The side is selected from parachute jumping instructors in the airforce.
New team member Sgt Jon Parkhurst said his first official jump with the Falcons was something he has been working towards for 12 years.
"Whilst on the team we're training all the time and I'll be developing my skills in freefall," he said.
Sir Winston Churchill introduced parachuting in the armed forces in 1940 as a way to rapidly land troops into combat zones.
The first military display team formed in 1961 and it was called the Big 6.
'Novelty' group
One of its original members Gp Capt Peter Hearn, 78, said: "We were initially trained in France to introduce freefall parachuting into a military environment and when we returned we were sent to Australia to give a display.
"We had a dual function. In the week we were a trials team, evaluating military freefall, and at the weekends we would go and display.
"There had been individual professional jumpers for years, but we were seen as a novelty as there was a group of us. We were a team."
In 1965 the group was expanded and renamed the Falcons.
There are now 11 jumpers on the side led by Flt Sgt Wayne Clayton who is the new team coach.
He said: "My main goal is to mentor the 10 other jumpers on the team and make them the best military freefall instructors they can be, and to lead the demos into all the arenas safely so that everyone enjoys their time on the team."
The Falcons' next jump will be at the Oxford Fun Run on 7 May in Oxford University Parks at 1035 BST.