Conservatives take control of Vale of White Horse from Lib Dems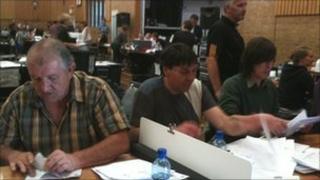 The Conservatives have taken control of the Vale of White Horse District Council from the Liberal Democrats.
They had held 18 seats but nearly doubled that by taking 13 seats from the Lib Dems, who also lost another seat to Labour.
The Lib Dems' 33 seats were reduced to 19, while the Tories now hold 31 seats.
The Tories have also held control of West Oxfordshire, South Oxfordshire and Cherwell district councils and the Lib Dems lost seats.
In West Oxfordshire, 46% of district voters took to the polls.
The results showed the Tories gained four seats, while the Lib Dems lost three seats.
In South Oxfordshire the Tories lost four seats but remained in control with 33 of the 48 seats. The Lib Dems lost three of its seven seats while Labour won three seats to hold four.
In Cherwell, the Tories and Lib Dems lost a seat each as Labour gained two.
No elections were held in Oxford but voters could vote in the national referendum on the UK voting system.
One third of the seats on West Oxfordshire District Council and Cherwell District Council were up for election.
All seats were being contested in South Oxfordshire District Council and Vale of White Horse District Council.
Results of the referendum are due later.